Adora has created the Later Alligator Twin Gift Set and it is the cutest baby doll set I have ever seen.  True story.  I introduced the adorable Adora twins in my preschool classroom on the first day of school and the kids loved them.  Girls and boys alike have been tending to the twins every day with the plethora of accessories that they come with.
Adora Later Alligator Twin Gift Set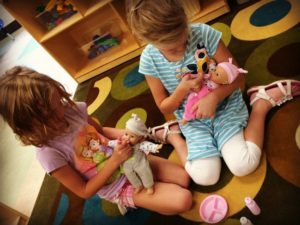 The twins can be fed by spoon or by bottle and have little "blankies" to keep them safe and warm.  What I love about the Later Alligator Twin dolls is that there clothes don't come off easily.  As a preschool teacher I can say that one task I do not care for is re-dressing baby dolls all day long.  Thankfully these little outfits are not easy to take off, so I can spend more time engaging and teaching the children and less time trying to figure out tiny little outfits.
The Adora Later Alligator Twin babies are just a little bit smaller than the other baby dolls in our classroom, so they fit perfectly in the small hands of my students.  I love watching the children being caring and nurturing with these twins everyday.  I would recommend the Adora Later Alligator Twin dolls to any preschool classroom or home.
All About Adora Later Alligator Twin Dolls: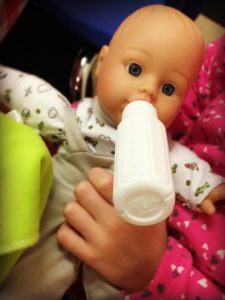 Twinsies – we're seeing double! Are you? Adora's Later Alligator – Twins Gift Set is trendy, cute and makes a perfect gift! This 17-Piece Gift Set comes with TWO 11" mini Baby dolls with sweet ADORAble faces and 15 Accessories! These precious baby dolls have a cuddly soft body, fresh baby powder scented vinyl and can even suck their thumbs. They are the perfect petite baby dolls for little ones to hold, play with and love! Adora's Alligator and Crocodile themed twin babies come in matching overalls in pink and gray, with a printed alligator long sleeve underneath and topped in striped beanies. They also come with 2 alligator security blankies, 2 bottles, a plate, spoon, fork and even bibs with "See you later Alligator" & "After a while Crocodile" printed on them! Best of all, these babies are 100% Machine Washable. A must-have for every "parent-in-training" your little one is sure to have hours of fun, imaginative play time! Get ready for double the fun and double the love! Ages 1 and up.
For more information and to purchase your own set:
Later Alligator Twins Gift Set
Disclaimer:  I was given a Later Alligator Twins Gift Set for review purposes from Adora. All opinions are 100% my own.