I recently made a wooden alphabet block matching game to use in my preschool classroom.  It was super cheap to put together, and has many purposes in the classroom or at home with your preschooler.
Wooden Alphabet Block Matching Game
The creation of this alphabet learning activity began when I found adorable wooden alphabet blocks at Target.  They reminded me so much of the blocks we had when we were kids, so I had to buy them!  After I bought the blocks I looked on Teachers Pay Teachers and found an awesome block font from Eric's Elementary Resource Store.  I made the letter colors match the same color the letter is on the block and printed out a set of cards A-Z.  Then I printed out the cards, cut them, laminated them and took them to school with the blocks.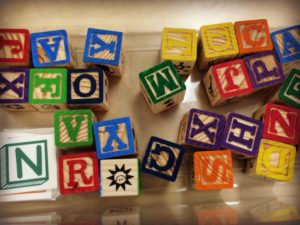 This Alphabet Block Matching Game is a great early literacy activity can be used during free choice time or as a small group activity.   Right now in our classroom we are using it as a simple matching activity.  In the future I plan to use the block matching game as a tool to assess whether children know their letters or letter sounds.  As the students learn more words they can create sight words with the cards and blocks.  So what appears to be a simple activity could be differentiated based on the learner's needs.  Easy to make and easy to use!
What are some activities that YOU have created in your classroom?