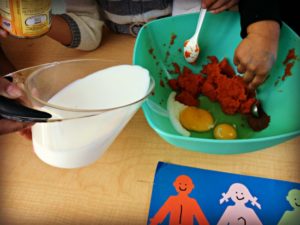 I love to cook in my preschool classroom and during the holidays is the perfect time to pull out my Mini Pumpkin Pie recipe and get baking with my little learners.  I use a super simple recipe and invite the children to work together to measure, pour, stir and mix to create Mini Pumpkin Pies as a team.  They use their math skills to count when mixing ingredients, and motor skills to mix and pour.  Plus we talk about kitchen health and safety while we work.  It's a great lesson and the end result is delicious. 
I bring my toaster oven to school to make these treats and I love how excited the kids get about making them.  Some of my students were even trying pumpkin pie for the first time when we make them.  My own kids make these at home over the holidays, because they are perfect bite sized desserts for parties.  They are always met with rave reviews.  And I love them because my kids can make them independently…so it is one less thing on my to-do list during the holidays!
Cooking with Kids:  Mini Pumpkin Pie Recipe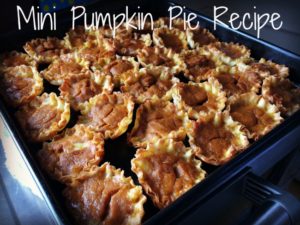 Ingredients:
15 oz. can Pumpkin Puree
2/3 cup Sugar
1/2 tsp. Salt
1 tsp. Allspice
2 Eggs
1 1/2 cups Milk
Mini Phyllo Shells (found in freezer section)
Directions:
Mix all ingredients (except phyllo shells) in a large bowl until well blended.  Carefully pour mixture into mini phyllo shells.  Bake at 350 degrees for 30 minutes, or until set.  Let cool for a few minutes and then top with whipped cream and pop into your mouth.
Before Baking: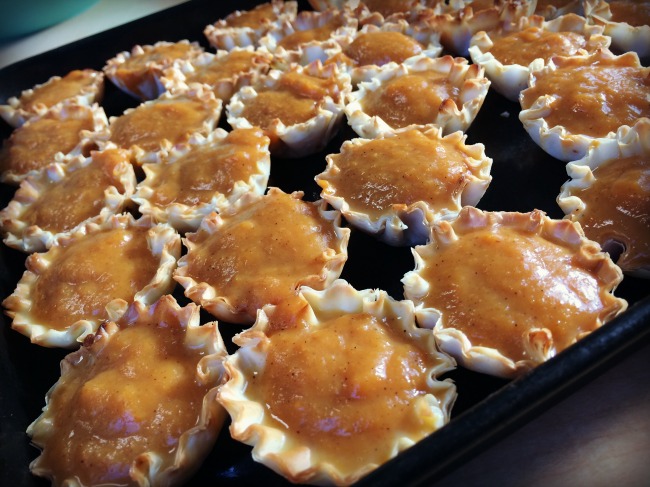 After Baking: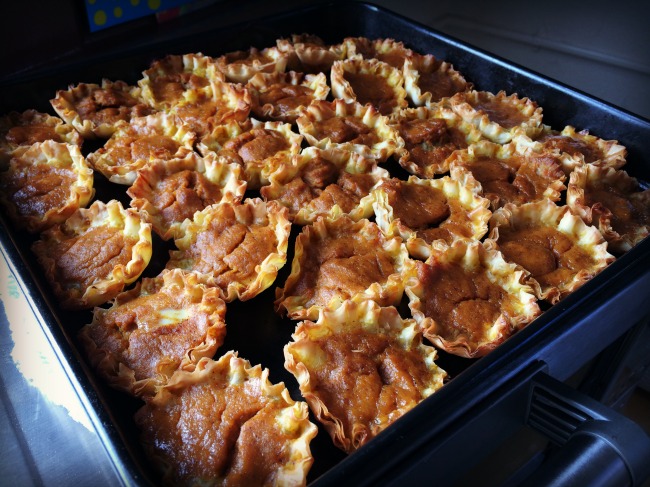 **If you are making with this with your students and are worried about their little hands in the mix you can always prep a batch ahead of time to use.